#FLAdventurer is what you are!
Whether it is your 1st time on the water or your hundredth, the adventure is never the same twice – there is always something new to discover in the outdoors of our great state of Florida. Our owners grew up surfing, kayaking, boating and fishing on the waterways of central Florida. It was always a dream to make the water their office. So it made sense to continue their relationship with this amazing ecosystem, to do their part to be vigilant in their duties to the environment, and to educate the visitors of this great state with candor and comedy. We truly hope you enjoy your experience as a #FLAdventurer and invite you to leave comments of your experience on our TripAdvisor page. See you soon!
We have 2 departure sites we launch from 1.) North Haulover Canal and 2.) Kiwanis Island Park
We are less than a 1.5 hour drive of Apopka, Cape Canaveral, Clermont, Cocoa, Cocoa Beach, Daytona Beach, Edgewater, Kissimmee, Lake Buena Vista, Merritt Island, Melbourne, Melbourne Beach, Ormond Beach, Orlando, Oviedo, Palm Bay, Rockledge, Satellite Beach, St. Cloud, Sanford, Sea World, Universal Orlando Theme Parks, Viera, Winter Park, or Walt Disney World!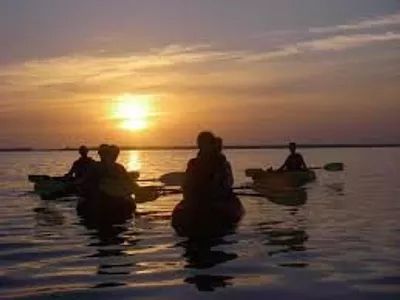 The BulkHead
Our Kayaks
Our 2 person tandem recreational kayaks are brand new! They have a 2 sided paddle and fabric seats with back included. Clean Life jackets are provided, as well as a whistle and a flashlight (for our evening tour guests). We also update our entire inventory every year to bring you the best possible experience.
Our Supplies
Each person is equipped with a Coast Guard Approved Life Vest, Whistle + Flashlight at the beginning of the tour for the safest possible experience!
Our Locations
We meet at Kiwanis Island Park in Merritt Island, and Haulover Canal at Merrit Island Wildlife Refugee for the beginning and end of our tours. Specifics are given upon scheduling.
Our Tours
1 1/2 hours of water time average
Kayaks, PFD, Paddles, Whistle + Flashlight included
Professional Florida Adventure Guides
Policies:
Alcohol Prohibited
Illegal Substances Prohibited
Must be 6+ Years Old To Experience This Attraction
Absolutely No Swimming
First Aid
Florida Adventurer guides are trained, 1st responders. Each guide is CPR and 1st Aid certified to act in a deliberate and proficient manner in the event of an emergency. Each Tour leader is equipped with a 2-way ship to shore radio in the event emergency services are required. Your safety is paramount.
Payment
Payment due at time of scheduling via Credit Card.
Refund Policy: See refund policy here.